Private Japanese Cooking Lesson Gift Voucher for two
Private Japanese Cooking Lesson Gift Voucher for two
A Japanese cooking lesson makes a great birthday/Christmas present, a cosy anniversary celebration or simply a wonderful treat for your friends.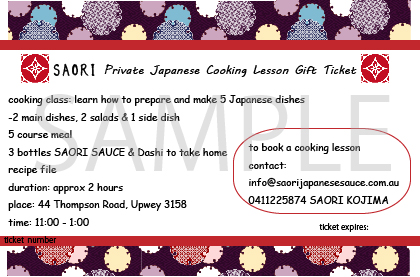 cooking class for two people
learn how to prepare and make 5 Japanese dishes
5 course meal
$48 worth of SAORI SAUCE products
-3 bottles SAORI Premium Japanese Sauces (to take home)
-1 100% Natural Japanese Dashi Stock (to take home)
recipe file
duration: approx 3 hours
times:
11:00 am - 1:00 pm
1:00pm-2:00 pm lunch
Any special requests catered for
* vegetarian
* vegan
* gluten free
* special tofu menu
* FODMAP diet
* spicy meals etc
place:, 3 Oakdale Road Upwey 3158
Customer Comments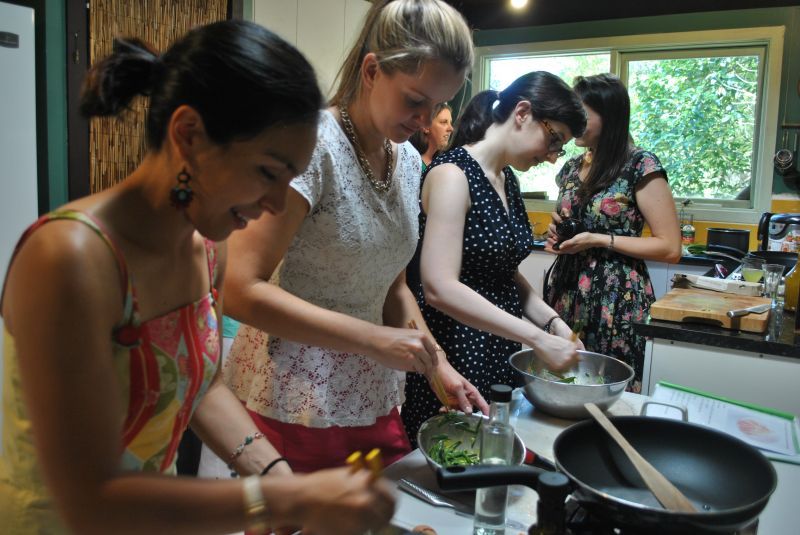 We found Saori to be very knowledgeable about Japanese food! We enjoyed her instruction & her company - highly recommended!
Saori did an amazing job - Saori went above and beyond our expectations. I really enjoyed learning about the background behind the foods we used and why certain combinations are so much healthier. We all felt really included and each had a go at preparing the dishes. It was really nice that Saori welcomed us to her home and this gave the day a special touch. I would highly recommend this and Saori is very friendly and accommodating. どうもありがとうございました!!
I had a delightful time. The outdoor setting for lunch was beautiful.
I completed the cooking class with the group for Sam's hens party. I loved the cooking class and I learnt a lot from your knowledge about Japanese food. Thank you!
Really enjoyable day! The instructor managed to get everyone in the group involved and explained properties and the benefits of the food we were cooking/handling etc. The environment/setting of where we ate afterwards was lovely and I found it so wonderful that the instructor sat and ate with us!
Absolutely wonderful, I loved every minute!
I wrote nuetral for the value for money as I do not know the cost as it was a gift. I had a great time and your instructions have inspired me to try more japanese style of cooking. Thankyou. Cheers Sharon