Garlic Chilli Edamame Recipe
Edamame is very common snack in Japan. It goes well with beer!Enjoy it as healthy snack. Children love it,too.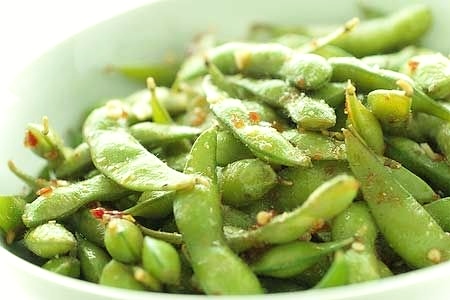 *1 packet of edamame (400g)- look for edamame in the freezer section of any Asian grocery store
*2 cloves of garlic (finely chopped)
*1 tsp of chilli
*2 tbsp SAORI Tsuyu (Seaweed & Soya Japanese Sauce)
*sea salt to taste
Recipe
1:Simmer garlic and chilli in olive oil (start with cold oil) till the flavour comes out (a nice smell)
2:Add edamame and drizzle on some Seaweed and Soya Japanese Sauce.
3:Continue to cook for 2-3 minutes.
4:Garnish with sea salt.
Related Item
SAORI Tsuyu ( Seaweed & Soya Japanese Sauce)
http://saorisauce.ocnk.net/product/9