Traditional Gyoza Recipe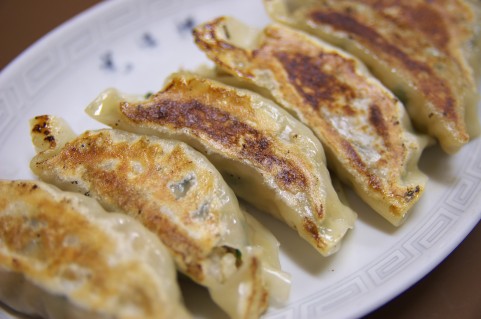 【Ingredients】
300g beef,pork or chicken minced
50g Chinese chives – finely chopped
2 tbsp SAORI GOMA (Sesame & Soya Japanese Sauce)
1 egg – beaten
1 tbsp corn flour
30 gyoza (gow gee) sheets
Corn flour – enough to lightly cover the
1 tbsp olive oil
½ cup water
SAORI Goma (for dipping)
【Traditional Gyoza Recipe】
1:Put meat in a food processor to make minced meat.
2: Place minced meat, chives, SAORI Goma, egg and corn flour in a large bowl and knead well.
3: Place gyoza sheets on the floured chopping board and put 1 teaspoon minced mixture on the sheet. Brush edges with cold water and fold in half. Pinch pleats into the edges to seal.
4: Heat olive oil in a frying pan and put in gyoza. Cook until bottom side turns brown . Turn them over, add half cup of water and then put the lid on. Reduce to medium heat and continue to fry until the water is almost gone. Open the lid and evaporate remaining water to make them crispy.
5:Dip gyoza in SAORI Goma or Ponzu
Note: freeze leftovers uncooked and when you do cook them, do it while they are still frozen (they won't melt and stick together this way)
Related items
SAORI Goma (Sesame & Soya Japanese Sauce)
http://www.saorijapanesesauce.com.au/product/5
SAORI Spicy Goma (Spicy Sesame & Soya Japanese Sauce)
http://www.saorijapanesesauce.com.au/product/44
SAORI Ponzu (Citrus & Soya Japanese Sauce)
http://www.saorijapanesesauce.com.au/product/2