Japanese porridge of rice and vegetables ( Zosui ) recipe
Japanese porridge of rice and vegetables recipe - Japanese name ZOSUI 雑炊
Hello, did you have a good weekend? I actuialy cancelled a market for the first time. There was a crazy storm!!! Anyway, winter is here now so I will tell you one of my favourite winter dish recipes. This recipe is VERY VERY healthy, makes you feel warm and only takes10 mins to cook. This dish is also good for when you are feeling sick because it is easy to digest. You can make it vegetarian or with meat or fish. Use any leafy greens that you have in your fridge.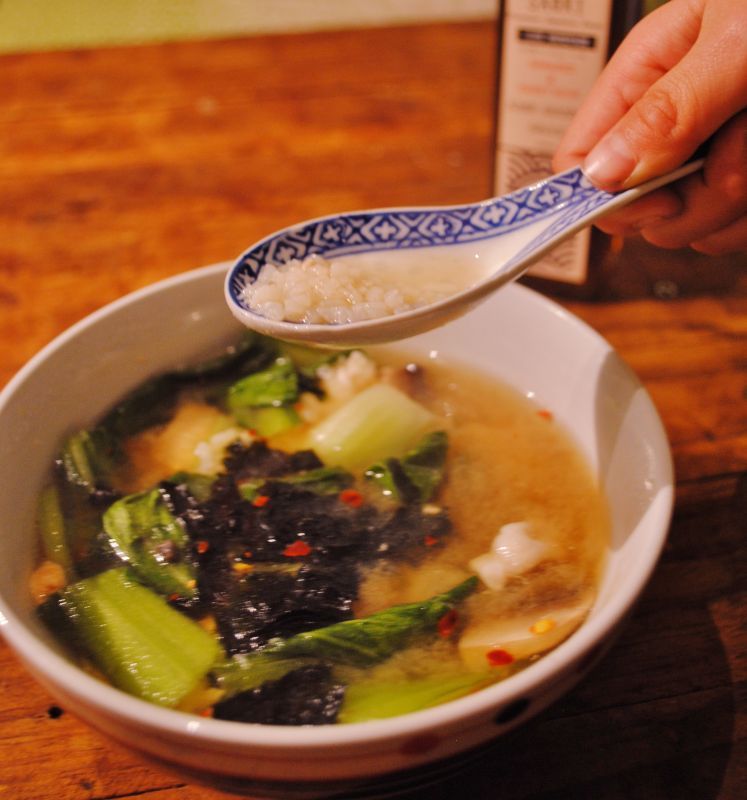 *2 cups cooked rice
*3 bok choy - chopped
*spinach - chopped
*3 mushrooms - chopped
*1 egg - lightly beaten
*Optional - chicken, pork or salmon...1 cm cubed
*3 tbs miso paste
*150ml SAORI Soba Noodle Sauce
*2 litres water
*garnish with nori (dried seaweed) and dried chilli
1: put water, vegetables, mushrooms, (optional -meat/salmon) in a sauce pan and cook for 10 mins (or until meat or salmon is cooked)
2: add miso, Soba Noodle Sauce and egg and cook until it simmers, then add rice
- if you add the rice from the beginning it goes soggy and it's not really nice...
3: taste it and add sea salt if you need
4: add nori and dried chil to garnish
5: enjoy your homemade Japanese meal at home!