Sesame & Chilli Flavoured Chilled Somen Noodles Recipe
Sesame & Chilli Flavoured Chilled Somen Noodles Recipe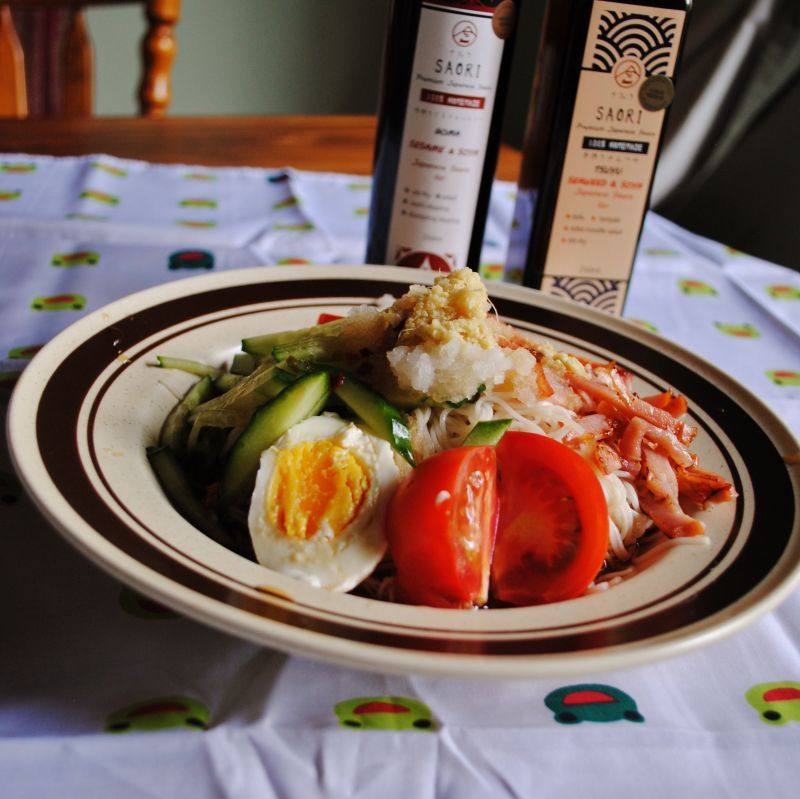 Yataa! Finally summer has come to Melbourne.
Chilled Somen is must have recipe in summer...but they can be boring if you only eat noodles with sauce all the time.
Sesame and Chilli gives somen a bit of kick. It only take 10minutes to cook and looks gorgeous.
Serves 4
4 bundles of somen noodles - you can find these noodles in the Asian section of supermarkets

one thinly sliced cucumber (5cm strips)
1 tomato - cut into 8 pieces
2 boiled eggs (halved)
3-4 bacon rashes (cut into strips)


200ml SAORI Seaweed & Soya Japanese Sauce ( Soba Noodle Sauce)
200ml cold water
2 tbs SAORI Sesame & Soya Dressing


grated ginger and grated daikon (Japanese Radish)

1: boil somen noodles for 2-3 mins
2: while you are cooking the noodles, you can prepare the topping (cucumber, tomato, eggs and bacon)
3: when the noodles are cooked, rince in cold water
4: make sauce - combine Seaweed & Soya Japanese Sauce, cold water and sesame & Soya Dressing into a pouring jug
5: place noodles in a shallow bowl and then put the topping on top
6: pour the sauce on top
7: garnish with grated ginger and grated Daikon (Japanese Radish)
8: Enjoy your home cooked Japanese meal!