Fried rice andwarm salad (potato, bacon) recipe
Fried rice and warm salad (potato, bacon) recipe - serve 3-4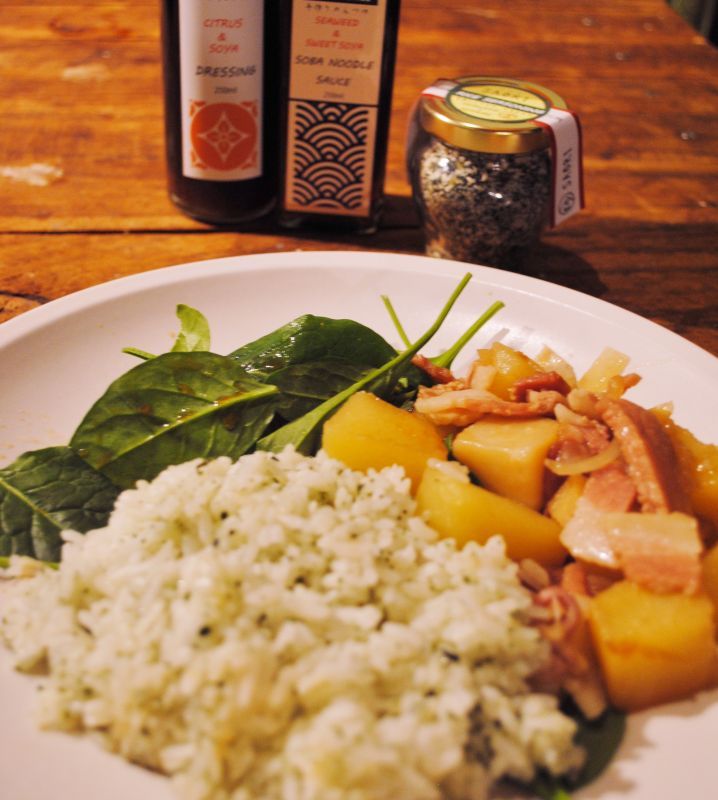 Fried rice
*300g cooked rice (I prefer short grain rice)
*1tbs SAORI Rice Seasoning
*1tbs olive oil
1: heat olive oil in a frying pan
2: lightly fry rice seasoning (this enhances its flavours)
3: add rice and mix well till evenly cooked (about 5 mins)
EASY...PEASY...JAPANEASY!!!!!!!!
Potato and bacon warm salad
*3 potatos
*2 slice of bacon (small strips)
*1 peace of garlic (finely chopped)
*50ml SAORI Soba Noodle Sauce
1: boil potatos until slightlysoft
2: cook bacon and garlic in a frying pan untill bacon is crispy
3::add potatos and Soba Noodle Sauce and simmer for 10 mins
4.: enjoy your homemade Japanese meal at home
I also had baby spinach leaves, drizzled in SAORI Citrus Soya Dressing, on the side.
A wonderful meal for these cold winter days.